Events
LEGaTO Final Event: Low-Energy Heterogeneous Computing Workshop
Recording of the workshop is available here.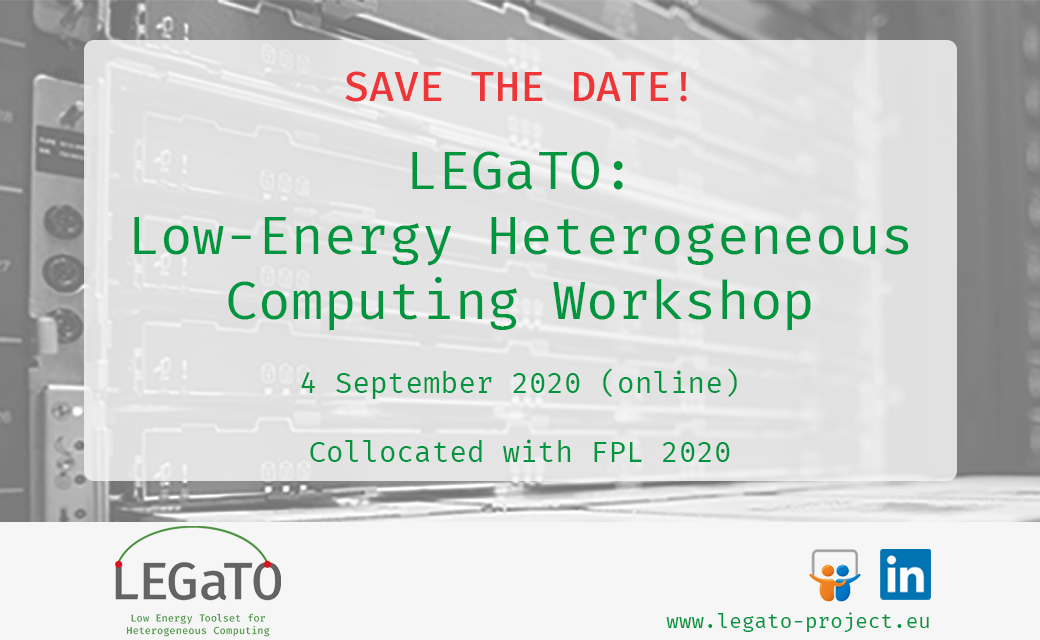 The LEGaTO final event, titled "LEGaTO: Low-Energy Heterogeneous Computing Workshop" and collocated with FPL2020, will be held virtually on Friday 4 September 2020.
LEGaTO is a three-year H2020 project on developing a toolset for low-energy heterogeneous computing that also considers fault tolerance, programmability and security. The project optimized a number of use cases for low-energy. The objective of the workshop is to apply the optimization low-energy techniques to other stakeholders in each of the use cases.
Scope
We are broadly looking to engage the Artificial Intelligence, Smart City, Smart Home, Healthcare and IOT communities to evangelize the low-energy optimization techniques that we have developed for these communities during the lifetime of the LEGaTO project. In particular, we will showcase how the heterogeneous low-energy small form-factor hardware could be coupled to an energy efficient runtime to produce one order of energy savings across these use cases. The workshop will consist of invited talks from these communities and will include insights gained during the project for ensuring fault-tolerance and security in addition to energy efficiency.
Registration
Registration is now closed.
Programme
Friday 4 September 2020 (CEST)